Newsletter 110 – 12.02.2021
Season 2020/21: Peru – South Africa – Uruguay
The blueberry never ceases to amaze. Each campaign brings new surprises. This year was characterized by a sharp increase in shipments, generally low prices, a shift towards organic and the USA threat to restrict imports. On the other hand, the countries continue with their constant varietal replacement, quality improvement, incorporation of technology, search for new markets, etc .; but also with labor, economic and political problems. How is the current situation of each southern supplier?
PERU: Stated as number one
There is no doubt that the blueberry has been the most successful crop in Peru in recent years. Its growth was dizzying, in such a way that it is disputed with the grape for the first place within the fruit exports of Peru (by income FOB dollars). Worldwide it managed to become number one in the export of fresh blueberries.
This success is due to Peru's very favorable conditions: dry and even climate, without extreme temperatures, enough water, large available surfaces, cheap labor, commercial openness and economic availability to invest. The predominating Biloxi variety, ensures a fruit with adequate quality, good appearance and sufficient post-harvest life. The possibility of regulating the production period through pruning, as well as the absence of rain and shipping by ship, are other advantages that allow the buyer to plan and schedule their orders.
As an example of the rapid growth,just look at the increase in the implanted area: five years ago there were about 2,400 ha, but currently it is close to 15,000 ha. Production is concentrated in the northern region, in the department of Libertad (Chavimochic) and Lambayeque (Olmos). It was the region that grew the most in recent years. In the central region (Ancash) and south (Lima, Ica), this growth was slower.
Along with the increase in acreage, exports also exploded. From the 13,000 tons shipped 5 years ago, in 2019/20 it rose to 118,000 tons and in the current season it is estimated to reach 160,000 tons. To these volumes must be added the frozen fruit. With the strong growth in production, the processing industry also developed. In 2019 Peru exported just over 6,000 tons.
Of the 160,000 tons exported in 20/21, 53% were to North America, 35% to Europe and 11% to Asia. Compared to the previous season, the destination that grew the most was Europe, receiving 50% more. A third more than in 2019/20 was sent to Asia and + 28% to the US, thus a more moderate increase than in the case of Europe. Therefore, the greatest success of Peru is in Europe, especially on the continent. The Asian market grew strongly in previous years, but in the last season the increase was slower. The Chinese market in particular showed less enthusiasm.
Logically, the strong expansion of the crop brings challenges, such as plant health, the management of a huge number of workers and the logistics of harvesting, cooling and transport, etc.
One issue that is being worked hard is the varietal. The Biloxis was the variety with which Peru achieved its success, but not all markets and clients prefer it. This is why many new ones are being tested. Biloxis continues to predominate, but its importance declined markedly. As a second variety comes the Ventura. Rocia, Emerald, Scintilla, Mágica, Snowchaser and many others have also been planted. Another point is, given the strong increase in volumes, to open new markets and explore new opportunities in existing ones.
Peru will continue to be number one for fresh blueberries, but this changes will force some adjustments and the strong expansion that was being experienced will probably slow down.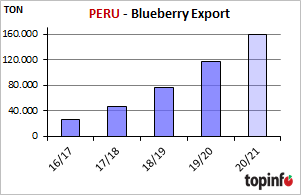 SOUTH AFRICA: Slow, but steady progress
South Africa managed to overcome its initial technical and climatic problems thanks to suitable technologies and varieties. It is currently in the full expansionary phase, although it growth is slower than that of countries such as Peru, Morocco or Mexico. The current surface is located at 2,200 to 2,400 hectares. The cultivation began in the southern region, the Western Cape, which concentrates 60% of the surface. In recent years the northern regions have been explored and currently 25% of the surface is located in the Northwest and Limpopo provinces. Along with the increase in area, so did production and export. In the 2019/20 campaign, it exported 11,200 tons, in 2020/21 an increase of 25% was achieved, reaching 14,000 tons.
Traditionally England has been the main destination for South African fruit. Historical ties led to that strong union. South Africa is the usual supplier of off-season fruit for the big English chains. But in recent years, South Africa has managed to compete favorably on the European continent, where it recorded the largest increase. In the last 3 years, the volumes sent have tripled. It competes with Argentina and Peru, given that their peak shipments coincide, which are October and November. Something also sends to Asia, especially the Middle East. This region is normally supplied by South African fruit (lemons, stone fruits, apples). But in blueberry, no progress is observed, the volumes shipped are stable.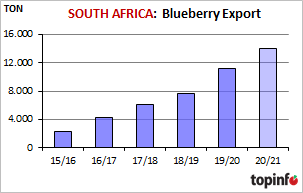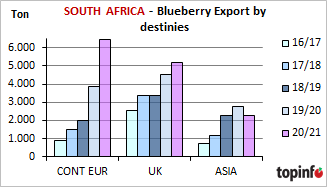 Uruguay is a minor supplier, which in recent years had to face serious climatic problems and eradicate crops in areas that proved not to be optimal for this fruit. Added to this were high internal costs, outdated varieties, and increasing competition from new suppliers. This led to a reduction in area and production, resulting in a drop in exports. Exports, which a few years ago stood at 1,500-2,000 tons, fell to 1,000-1,500 tons. The decrease in shipments occurred for all destinations. Uruguay routinely ships 60% to North America, 30-35% to Europe and some volumes to Latin America.
Like Argentina, Uruguay isworkinghardon varietal replacement, increasedproductivity and improvements in technology and logistics, to stand out as a qualitysupplier and be abletosupplyspecialmarket niches.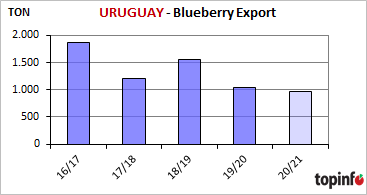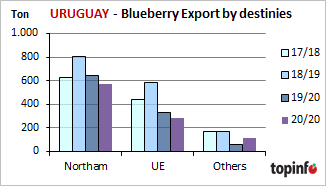 Author: Agr. Ing. Betina Ernst