Newsletter 152 – 06.26.2022
Grapes continue to be a star product of the Southern Hemisphere, with Peru, Chile and South Africa remaining as the top three world exporters. It achieved this importance thanks to the fact that they knew how to respond to the changes demanded by the northern markets. There was a strong varietal shift towards the seedless ones, patented grapes and; from the preponderance of white grapes, there was a switch to red varieties. Logistical challenges could also be faced to continue to offer a fresh and attractive product to customers during the northern winter.
On the other hand, the southern hemisphere managed to diversify its destinations. Originally USA was the main market. This country continues to be the first destination, but its participation has decreased and it currently receives a third of the southern shipments. On the other hand, Europe and the Far East have advanced. Each of these regions receives a quarter of the southern shipments. Other smaller destinations, but which are growing, are Latin America, Canada and the Middle East. On the other hand, Russia withdrew as a market, as a result of the commercial conflict that arose from the war with Ukraine.
There were also strong changes in the importance of the different suppliers. Chile, which was a pioneer in this business and was the absolute leader for decades, has ceded its place as the world's leading exporter to Peru for the first time in this year. This country exported almost 600,000 tons in 2022/23, while Chile only reached 500,000 tons. Climatic problems in recent years, the renewal of crops and a strong varietal reconversion reduced Chile's export potential. Also South Africa suffered this year under adverse weather conditions. Intense rains during the harvest limited and complicated the export possibilities. This crop is very sensitive to extreme temperatures, as well as excess water, be it rain or humidity.
Chile, South Africa and Brazil exported in this 2022/23 season between 16 - 20% less than in 2021/22. Only Peru managed to continue increasing its volumes, exporting 12% more than in the previous season. With an export of almost 600,000 tons, it has doubled its exports in just 7 years. The Peruvian plus failed to offset the decline in other countries, for which the total exported by the Southern Hemisphere was 8% below the record of 1.54 million tons reached in 2021/22. Virtually all the large markets received somewhat lower volumes than the previous season. This lower availability allowed the market to balance better and sustain an acceptable price level. This last point is essential given the increase in costs that the entire fruit sector has suffered.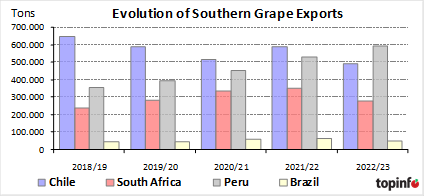 Author: Agr. Ing. Betina Ernst